Rock & Learn
CD & Activity Book
Music In Action´s first Cd-book is called "Rock and Learn", in this album you can listen to 15 original songs for learning English aimed at Primary level as well as 15 Karaoke versions so you can sing along too!
The songs are played in a variety of genres like Reggae, Soul, Jazz, Pop or Rock played by Music In Action´s musicians. The songs  are about topics children learn at school like: Birthdays, Pets, Animals around us, Means of transport, High Technology and its use today, Animals in different habitats, Travelling around the world and cities' landmarks,Months of the year, Family members and their ages as well as Food around the world.
Rock & Learn is perfectly pitched for young learners of varying levels. The CDbook comes with a booklet full of fun exercises (one for each track) to consolidate learning. It even includes a karaoke version of each track to motivate students to learn the lyrics. After or before you listen to the songs and sing  them, not only can you focus on the song´s language through the activities in the booklet ( anagrams and pictograms) but  you can also focus on developing their imagination by doing creative and artistic tasks ( dot to dot, imagine the objects, matching activities..etc)
These are a couple of examples of the activities: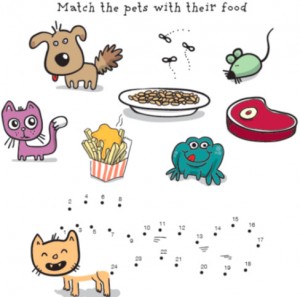 The songs have actions  so students can do the actions sung in the songs while learning them and they can dance to them in our live shows at schools, museums, Art Centres or playcentres.
Rock & Learn is a great way to learn English and reinforce its acquisition.
"Rock and Le
arn" was one of the five finalists to the *Elton's 2014 Macmillan New talent in writing.
(*The only international award that celebrates innovation in Teaching resources)
The 15 songs in the album and the activities in the booklet  have been written by Taera Shaikh and the album has been recorded, produced and mixed by Fernando Polaino in Estudio establo for Granjabeat Records. He has also participated playing guitars, mandolins, ukuleles and banjos. As well as:
Juan José Calzas: Guitars, Javier Castiñeiras: Drums, Bernardo Macarro; saxophone, guitars and percussion.
Alex Olmedo: Guitars, keyboards and percussion and Taera Shaikh vocals and backing vocals.
In our shows kids sing , dance, interact with us, come on stage to answer questions and  they form part of a great live music experience with a rock  band formed by Gonzalo Maestre: Drums,Javier Santana : Bass, Juan José Calzas : Guitar and Taera Shaikh : Vocals.
Rock and learn is a superb resource that skilfully blends good music with a structured, practical and effective approach to English language learning.